Dear reader,
In June 2022, Kardelen, Regina and Vivien, three trainees at Pyramid Computer GmbH, traveled from company headquarters in Freiburg in southern Baden to Thuringia, the green heart of Germany. About 20 km south of Erfurt lies the municipality of Amt Wachsenburg with its subdistrict of Ichtershausen. Surrounded by meadows and fields, it is host to Pyramid's production and logistics facility. The three trainees later wrote the following report about their visit. Enjoy!
Exploring Pyramid's Hardware Forge

In two large halls, the solutions of our AKHET® and Polytouch® brands – industrial computers, industrial servers, kiosk terminals and the paging and localization system PLS – are brought into existence by 45 colleagues. From Ichtershausen, the finished devices are then sent out into the world.
During our one-week visit at the plant, we got to know our company's products first-hand while working in production and logistics. It was a great and incredibly exciting experience beyond the confines of our training in business administration.
On our first day, we had the obligatory safety briefing first thing in the morning.
After that, we attended one of the shop floor meetings that take place every morning just before eight. Each team gathers at a large flat-panel screen and discusses what went well and what went less well the previous day, and what measures need to be taken. All issues are thus resolved by and within the team. Big thumbs up! We think that's fabulous!
Next, armed with screwdrivers and pliers, we were off to Pre-Assembly. We prepped systems and system components for serial production on the assembly lines.
</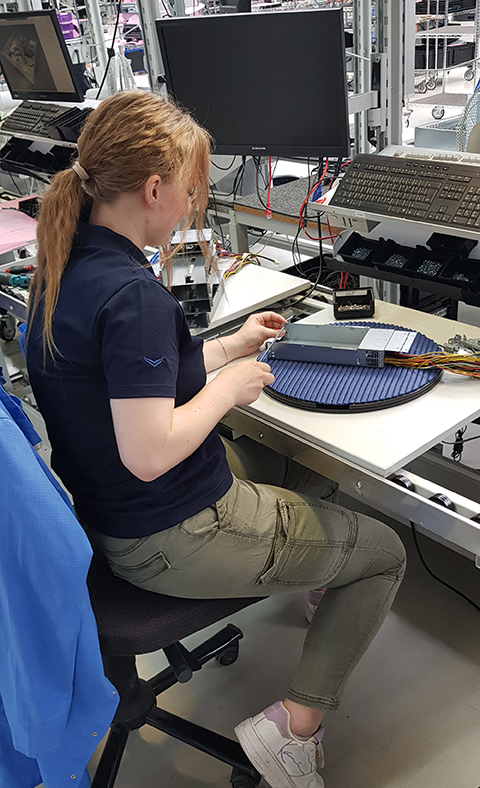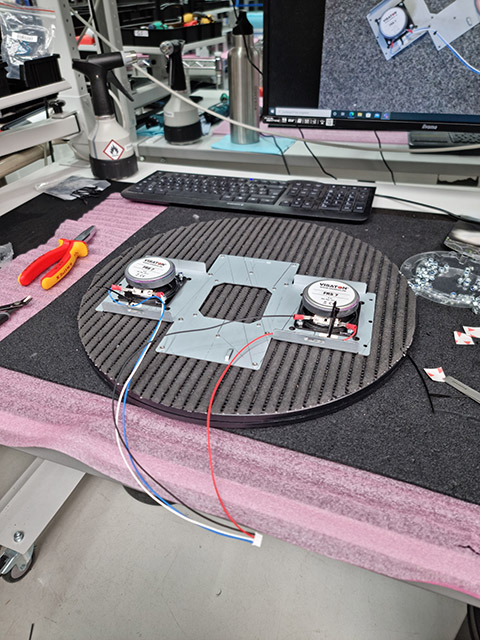 We got to screw panels and handles to computer and server housings, removed cable ties from power supply units, mounted hard drives on frames and attached fan latches. The photo above shows Vivien working on a redundant power supply.
The next challenge was waiting for us in Assembly. This is where the prepped modules are assembled and the cabling is completed:
fixing the power supply to the housing, mounting network cards, connecting the mainboard, CPU and graphics card to the power supply. At the end of Assembly, the product is completely finished as regards the hardware.
Below, on the left, you can see Regina wiring the ventilation system for a server solution. The photo on the right shows the assembly line for an industrial computer. The photos and texts on the screens show the employees how to proceed with the assembly.
</p>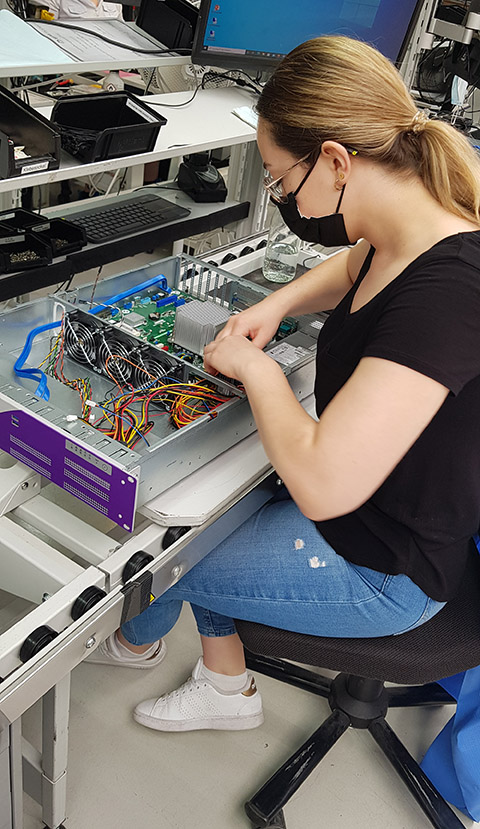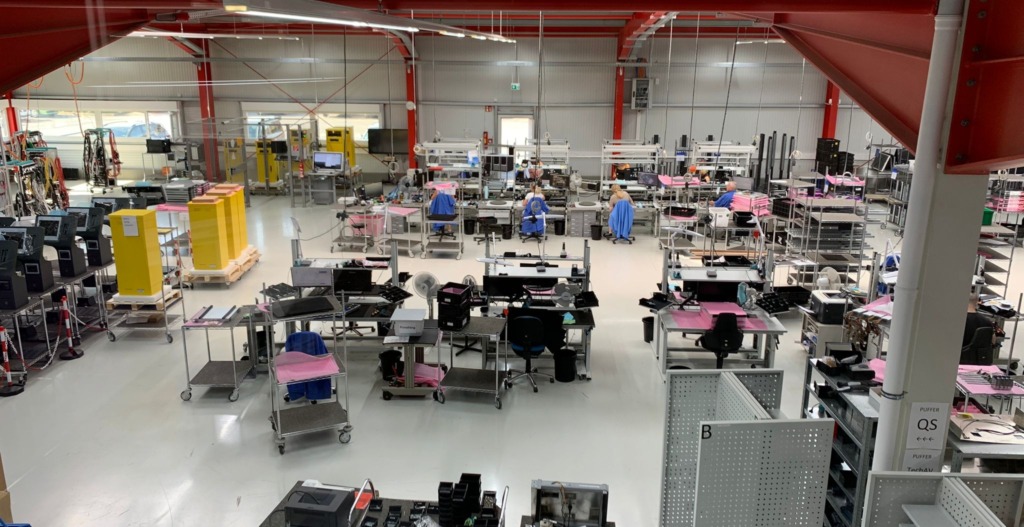 The highlight for us was assembling a Polytouch® CURVE under the guidance of a very friendly and experienced colleague. We mounted and wired this kiosk terminal with the industrial computer box, a printer, a scanner and other peripheral modules.
Thanks to its modular design, the CURVE has room for lots of peripheral devices, and therefore it can be used in different industries and use cases, for example, in brick-and-mortar retail stores as an information or cross-selling terminal.
In hotels, it functions as a 24/7 check-in terminal with biometric access management, and at airports it can be found as a solution for automated passenger check-in.
It was almost an uplifting feeling for us to get a device running that we had previously only known from photos, texts and videos.</p>
</p>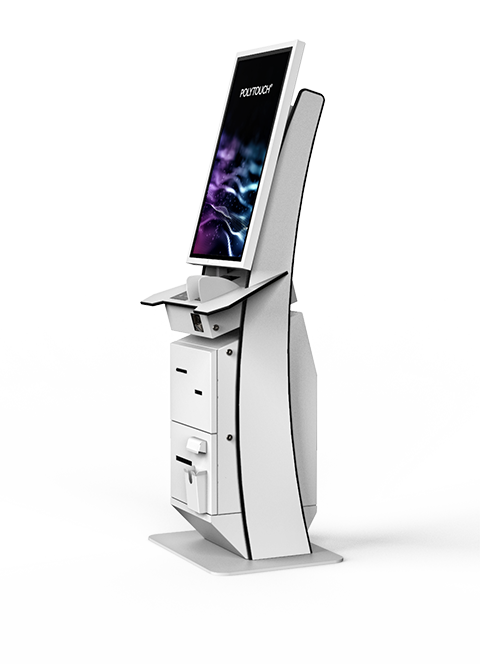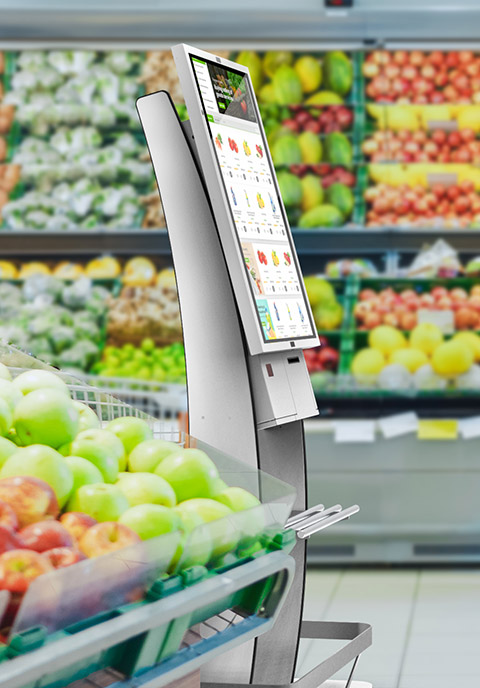 That's it from us for today! But we'll be back, don't worry! In Episode 2, we'll tell you about our continued adventures at the Ichtershausen facility.
TO BE CONTINUED… 😊
About Pyramid Computer
Founded in 1985, Pyramid Computer is an international developer and manufacturer of custom hardware solutions. Pyramid Computer's portfolio includes interactive self-service terminals as well as industrial PCs and industrial servers.
Pyramid Computer has already delivered over 40,000 order terminals to the foodservice industry. This makes Pyramid the world's leading manufacturer of self-service kiosks for this industry.
Renowned international companies rely on Pyramid Computer's industrial PCs and industrial servers. More than 1,000,000 servers are used in the areas of Network & Security, Imaging & Visualization, Industry & Automation.
Customer proximity, flexibility, modularity combined with innovation guarantee minimal time-to-market and best-in-class solutions for the digitalisation of industry, commerce, healthcare, transport & logistics, banking and entertainment.
Pyramid Computer GmbH
Boetzinger Strasse 60
79111 Freiburg im Breisgrau
www.pyramid-computer.com